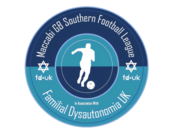 Home Ground: TBC
Management team: Jacob Emanuel & Danny Hirschberger (Joint Managers). Jack Shulman (Player/Assistant Manager/Director of Football). Vivian Emanuel (Chairman).
Kit Colour: Maroon and White (home). Yellow and Maroon (away)
Sponsor: Private Medical Health (main sponsor) and Good Egg Medical (2nd sponsor)
Social Media: @HertswoodValeFC (Twitter)
New Signings: One or two players still to be announced. But we've brought in Tony Gold, Ollie Brill, Harry Marlow and Andy Gilbert on permanent deals to boost the squad.
Departures: Ben Brown, Jamie Steinberg, Alex Trup, Jack Green, Adrian Leibovitch and Danny Feuer have all left the club. We wish them all the best.
Transfer Needs/Targets: We're on the verge of making a potential double signing up top as we look to increase our firepower but the majority of the squad have stayed together from last season, and have been strengthened by some players continuing to play for us on more permanent contracts as opposed to the one-off game.
Players To Watch This Season: It's a squad brimming with talent but special mentions to Adam Zaidman (GK – best in the league), Harry Marlow (Mid – his 4th season with Vale and now that he's back from uni, is guaranteed to cause problems), James Millet (Mid – 47 goals in his last 2 seasons from midfield) and Andy Gilbert (CB – has come in to bolster our back line). But the whole squad could be mentioned here.
Aims: We've got to be pushing ourselves for promotion this season in Division 1, whilst we'd love another cup run after reaching the final of the PM Trophy in 2019/20.
Social, News & Weather
Photo Gallery
Never miss an update
Follow the site to get the latest news and results straight to your email