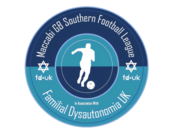 Home Ground: London Tigers Fc, Spikes Bridge Park
Management Team:
Chairman: Sam Morris
Manager: Spencer Saffer
Coach's: Ben Rosen/Luke Bodner
Kit Colour: Blue and White
Sponsor's: AMG Steel & Conance
Social Media handles:
Twitter: NwlAzzurrifc
Instagram: nwlazzurrifc
New signings: As a new club, essentially our whole squad is a new signing, so we'll mention some of the notable ones:
Sam Morris
Ethan Mooney
Aron gale
Nathan Rosenthal
Zak Jackson
Ben Rosen
+ many many more
Departures: N/A
Transfer needs/Targets:
We are very happy with our currant squad, however
there are STRONG STRONG voices coming out of the NWL Azzurri camp of the signings of 2 "Mystery" current MGBSFL players which will go through for the start of next season. We will let the league figure out who they might be
Player to watch this season:
Mr Aron "bagsman" Gale, expect to see him at the top of every single goal chart right from the start of the season.
Aims - Promotion. We have big plans for the next 2/3 years, and that all starts by getting promoted from division 2 into division 1 next season. We'd also love a sneaky cup run but our main priority is the league.
Social, News & Weather
Photo Gallery
Never miss an update
Follow the site to get the latest news and results straight to your email