Maccabi GB Southern Football League

Maccabi GB Southern Football League
News Report
Match Day Two Review
14/09/20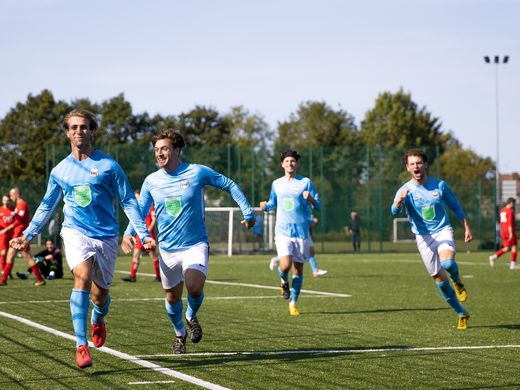 MGBSFL Results - Sunday 13th September 2020
Premier Division:
HMH vs Hendon - MGBSFL Premier Division Game of the Week
Result: HMH 5-0 Hendon
It's fair to say the predictions for this game were slightly off! Joe Jacobson tweeting "Great result. I didn't see that one coming" says it all for this game! I don't think anyone saw this result coming. Hendon were put to the sword by an HMH team that had quality all over the pitch. An early Penalty converted by Oscar Wagner set the game alight and from there HMH were in full control for the remainder, with Hendon not troubling the HMH goal too many times throughout the morning. Adam Abadi was back on the scoresheet for a 2nd week in a row continuing his form since his return from Australia, an own goal and two more strikes from Dom Feldman and a second from Oscar rounded up the 3 points for HMH which was a huge early statement in the Premier Division.
HMH will hope to continue this form throughout the season as this is not an unfamiliar position for them 2 games in. Hendon on the other hand will want to quickly get this result out their system and get back to winning ways in two weeks time.
HMH Goal scorers: Oscar Wagner X2, Adam Abadi, Dom Feldman, Own Goal
MGBSFL Prediction: HMH 2-2 Hendon
Joe Jacobson's Prediction: HMH 1-3 Hendon
Fairlop vs Jewdinese

Result: Fairlop 6-2 Jewdinese
Another prediction gone wrong and a tough afternoon in Essex for the Zebra's. Fairlop bounced back into action following last week's disappointing loss to HMH with 6 goals of their own against Jewdinese. We expected Jewdinese to have a tough season in the Premier Division but its not looking good two games in having conceded 12 goals. They'll be hoping to get on the points board in 2 weeks when they face fellow strugglers Faithfold White in what could be an early relegation battle. Possibly a bit premature, but Jewdinese will need to start firing soon should they want to compete in the Premier Division this season. As for Fairlop this looks to be a good result to get their season up and running.
Fairlop Goal scorers: To Be Confirmed
Jewdinese Goalscorers: Reiss Mogilner, Zack Collins
MGBSFL Prediction: Jewdinese 3-2 Fairlop

Maccabi London FC vs Faithfold Blue
Result: Maccabi London FC 3-0 Faithfold Blue
Maccabi London FC are making some claim early on this season for 'Underdogs' and quietly going about their business in the Premier Division this season. An opening day victory against North London Raiders caught the eye and this result has definitely made the other teams in the division stand up and take notice of MLFC. Following last weeks 3-0 victory for Faithfold Blue we predicted a tough morning for MLFC, but as we mentioned last week, Rowley Lane is never an easy place to visit and MLFC are certainly keeping up that trend with a convincing victory and clean sheet.
We spoke to MLFC manager Max Kyte following the game "The boys showed great maturity and patience all game. We kept possession of the ball most of the game and by keeping it away from Faithfold, we limited their ability to create their own chances. This meant we kept a clean sheet, and then the attackers did their job the other end. Faithfold have some dangerous players, and Zack Shooter will be sure to cause teams problems this year"

Maccabi London FC Goal Scorers: Mikey Perkins, Sam Hamerton, Charlie Ezra
MGBSFL Prediction: Maccabi London FC 1-1 Faithfold Blue
North London Raiders vs Oakwood
Result: North London Raiders 2-1 Oakwood
More Information To Follow...

North London Raiders Goal scorers: Maxim Green X2
Oakwood Goalscorers: Alex Lee
MGBSFL Prediction: North London Raiders 1-2 Oakwood

Division One
FC Team 1-1 Hertswood Vale - MGBSFL Game of the Week
Team Goal Scorer: Alex Trupps
Vale Goal Scorer: Scott Hircombe
The MGBSFL Game of the Week was a fiery affair between Division Two Champs FC Team and Peter Morrison Trophy Runners Up Hertswood Vale. Alex Trupps opened the scoring early on for Team but Scott Hircombe on his Vale debut leveled it after 16 minutes, stabbing home a rebound from close range. It was clear both sides were desperate to get a result with tensions rising to a boiling point with Vale co-manager Jacob Emanuel describing the game as "the worst game of football we've been involved in our 5 year history." Emanuel continued by saying "We're satisfied with a draw considering the conditions, but we know we have to do better moving forward, and we will. I'm proud of the boys for pulling together when things weren't going our way, and the match was threatening to over boil."
Pre match FC Team claimed the game was the biggest test the club would face in years, you would be led to believe that Mitch Young would be delighted with his side's result but Young sees it as two points dropped, "We bossed the game from start to finish and on another day would have come out comfortable winners, a big opportunity lost but I am proud of my players to sticking to our tactics perfectly."
MOTM: Alex Trupps
Borussia Barnet 4-3 Brook Farm Rovers
Barnet Goal Scorers: Ollie Lewin x2, Daniel Creese, Adam Bowman
Rovers Goal Scorers: Dan Cohen x3
Borussia Barnet continued their 100% start to the season with a 4-3 victory over Brook Farm Rovers in Neasden on Sunday. Dan Creese followed his superb performance last week against the Dons with another impressive display that saw him find the scoresheet. Adam Bowman was a serious threat from set pieces throughout and he managed to score directly for one and assist Ollie Lewin beautifully from another for one of his two goals on the day. The game was looking dead and buried but a late surge by Rovers player-manager Dan Cohen which saw him score a late hat trick, made for some nervy late moments for Barnet. Cohen believes his side's slow start to the game was what proved costly "We started way too slowly and paid the price, they pressed us very high and we didn't keep possession well enough at all.That being said, all four of their goals were very preventable which is frustrating and something we need to learn from."
The Rovers manager went on to praise his side's second half performance "Second half was chalk and cheese, we bossed it but just found it too big a hill to climb being three down at half time. Great effort from our boys to keep going but wasn't meant to be. Definitely some rustiness with it being our first competitive game since March and they benefited from playing the week before. Got no doubts we will be fine going forward but just need to be sharper from the first whistle. Five weeks off now to train well and go again."
MOTM: Adam Bowman
London Bears 6-1 Temple Fortune
Bears Goal Scorers: Zacki Doumou x3, Alexander Rose, Sam Bookman, Sam Schakleton
Fortune Goal Scorer: Danny Sherman
London Bears kicked off their season in style with a 6-1 win over Temple Fortune in Southall. Zacki Doumou translated his great pre season form into the opening day with a hat trick, whilst Alexander Rose, Sam Bookman and Sam Schakleton also found the scoresheet. Bears player-manager James Harpin was unsurprisingly happy with his side's performance "Great result to start the season. We performed well for the last 60 minutes and scored some good goals." Despite scoring six, Harpin was disappointed that his side wasn't even more clinical in front of goal "Disappointed by the fact it was not a bigger score line and that we didn't keep a clean sheet but it's three points to begin the season with which is 3 points more than we had at this stage last year."
Fortune manager Simon Linden was extremely disappointed by the events leading up to Sunday's game, going as far as to describe it as the worst morning he has ever had in management "I think in all the years of managing this was possibly the worst morning of events I have had. We had players missing already, I lost 2 further players yesterday, another didn't turn up and then to make matters worse I lost the skipper and another player to injuries in the First half. Enter a Second Half performance from Linden, my first game in 3 years. Credit to Bears, they look good but I want the return match tomorrow."
MOTM: Zacki Doumou
Paris Saint-Jewmain 0-2 Mill Hill Dons
Dons Goalscorers: Jonny May, Josh Goldstein
The Mill Hill Dons bounced back from their opening day disappointment to claim all three points against Paris Saint-Jewmain. The Dons opened the scoring just before half time after Kane Gilbery picked out Jonny May who calmly took it round the keeper and slotted it away for his first goal for the club. The Dons started the second half in the same fashion they ended the first, it was 2-0 three minutes after the restart, Marc Charles' cross was met by his cousin Josh Goldstein who hit it on the volley from close range to score on his debut for the club. Dons manager Brandon Hammé was delighted post match with his side's performance "This was the type of performance we needed after last week, the boys took on board what we said before the game and at half time and implemented the game plan perfectly. There were boys coming off the pitch completely dead on their feet, they gave everything and I can't ask much more than that. We know that we should have been a bit more clinical in front of goal but we can be happy with the sheer amount of chances we managed to create during the 90, big positive signs for the weeks ahead."
Paris Saint-Jewmain manager Mikey Elia was disappointed in his side's performance and knows they will need to improve if they are to compete in this division "We're disappointed with the result and performance and have to do much better next time out if we want to compete in this league." Elia's men can take encouragement from their opening day result and will just hope that Sunday's game proves to be a blip in their season.
MOTM: Marc Charles
Second Division
Scrabble vs NWL Azzurri - MGBSFL Second Division Game of the Week
Result: Scrabble 2-10 NWL Azzurri
NWL Azzurri got off to an absolute flyer in their first ever MGBSFL game, with TEN goals against a young Scrabble side. Joe Jacobson's prediction of a Scrabble upset looks like it riled up the Azzurri, who knew nothing more than a big win would do to open their Division Two account. This result will be seen as a wake up call for the rest of the division.
"A really nice looking win in our first ever competitive game as a club. We feel we didn't play well at all yet still managed to score a really high number of goals so loads of positives to take out of this result as a lot of things to work on at training looking forward to a big fixture in 2 weeks time."
Scrabble won't be too disheartened after winning their opener last Sunday. But they know they have a serious challenge on their hands from NWL Azzurri this season if they want to get promotion back to Division One.
Scrabble Goal scorer: Andrew Binstock x2
NWL Azzurri Goal scorers: Sam Morris x3, Zak Jackson x3, Ethan Mooney x2, Oscar Green, Danny Mirracco

MGBSFL Prediction: Scrabble 1-3 NWL Azzurri
Joe Jacobson's Prediction: Scrabble 4-1 NWL Azzurri
SPEC vs Redbridge JC
Result: SPEC 2-1 Redbridge JC
SPEC kicked off their season with a win at the death against Redbridge JC in a very close game. Zach Neiman got a brace, and will be gunning for another SPEC golden boot, and maybe even a league one too.
The game was turned on it's head when Redbridge were reduced to ten men, with neither team, or manager happy about it. SPEC manager Ricky Lawrence said, "A really tough game today which could have gone either way. I think Redbridge probably had every right to feel hard done by the red card though I didn't have the best view. And credit to them as they carried on trying to win the game despite going down to ten men. At the end, it was a moment of magic to win us the game from Zack, and right at the death too."
Redbridge will feel very aggrieved by the result, after putting up such a fight with ten men, and losing right at the death.
Redbridge JC's David Castle said, "Unfortunately the ref ruined a very good game. Even with 10 men for the majority of the second half we should've come away with at least a point. The boys didn't stop fighting til the end and limited Spec to very few chances, unfortunately for us, they took two of them including an unstoppable free kick and we didn't make the most of ours. Loads of positives to take out of our first two games where we've been the better team in both, just need to put our chances away and make our way up the league."
SPEC Goal scorers: Z Neiman
Redbridge JC Goalscorer: Sam Cormack
MGBSFL Prediction: SPEC 2-2 Redbridge JC
Straw Hat Pirates vs Stoke Salmon
Result: Straw Hat Pirates 0-8 Stoke Salmon
Stoke Salmon put Straw Hat Pirates to the sword, with a huge EIGHT goals to nil win. Nick Barnett was the star of the show with a hat-trick for the Division Two new boys.
"Very very happy with our performance on the weekend. Much more like ourselves, playing with a real identity, drive and desire to win. Special mentions to Nick Barnett who showed his class throughout the game and scored a hattrick and to Jack Christie who scored an absolute beauty - think Bale vs Inter.Overall delighted but focus now on a very important game vs Scrabble in a couple weeks time. It's a must win."

Stoke Salmon Goalscorers: Nick Barnett x3, Jack Christie, others TBC
MGBSFL Prediction: Straw Hat Pirates 1-3 Stoke Salmon
West Hendon Wallabies vs FC East London Bees
Result: West Hendon Wallabies 3-6 FC East London Bees
FC East London Bees opened their MGBSFL account with an impressive 6-3 goal-fest win away to West Hendon Wallabies. The Wallabies will rue the loss, having been missing some keys players, including their central defensive duo.
"Quite a game, we fought hard from the off with the two teams tied at 1-1 in the fourth minute, we ended the half drawn at 2-2. The second half was an uphill battle (literally, the pitch is slanted) and whilst the Wallabies played beautiful, flowing football, we felt the absence of our usual centre halves (due to injury) and were punished. The Bees were great opponents, they fought hard and kept their chins up, although Management could have put a bit more effort towards sportsmanship. With regards to the Ref, in the words of the great José Mourinho, "I prefer not to speak. If I speak, I am in big trouble". We look forward to the West Hendon Derby against the Pirates in two weeks."

FC East London Bees on the other hand will be delighted to get off to a perfect start as they start life in the MGBSFL. Jason Goldstein stole the headlines with an impressive FOUR goals for the Bees, he will be one to watch in Division Two this season.
"We're absolutely delighted to get our first campaign off to a winning start where our star midfielder Jason Goldstein shone with 4 goals sandwiched between Darren Hahn's first minute strike and Player Manager Sam Goldman's excellent finish late on.A huge win in tough conditions on a heavy hilly pitch which we used to our advantage in the second half, being totally dominant on the downslope.The win is made even more sweet knowing we will only get stronger when 3 key men Jordan Sapler, Liam Stein and Jay Lawrence return.We can't wait for our first home game against Hampstead Ducks, where we will see if a trip to Epping on a Sunday is a bit too far for them!"
West Hendon Wallabies scorers: TBC
FC East London Bees scorers: D Hahn, J Goldstein x4, S Goldman
MGBSFL Prediction: West Hendon Wallabies 2-2 FC East London Bees
Follow the site to get the latest news and results straight to your email