Maccabi GB Southern Football League

Maccabi GB Southern Football League
News Report
Match Day Two Preview
10/09/20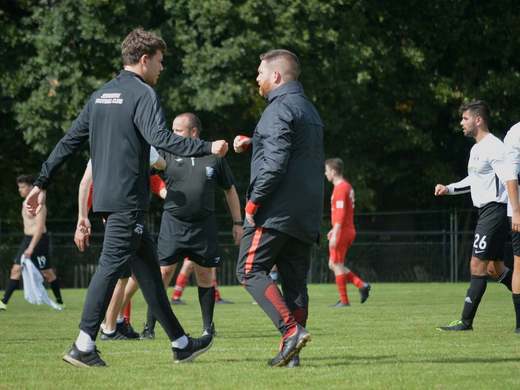 Match Day Two Preview is now Live! - All matches to be played on 13/09/2020
10:00am Kick Off unless stated otherwise
Follow us on social media for more updates - Twitter: @_ MGBSFL Instagram: @MGBSFL
Premier Division:

HMH vs Hendon United - MGBSFL Premier Division Game Of The Week
Venue: The Hive
The Premier Division game of the week and a fixture that never disappoints! HMH and Hendon have faced each other 5 times in the MGBSFL and there has been 23 goals in those games. Hendon have only managed one win in 5 against HMH, coming on the first day of last season, but they'll be hoping to stay at the top of the table following last weeks 6-1 victory against Jewdinese.
HMH scored 6 of their own against Fairlop last week and they will also be looking to come into this game with the hopes of taking all 3 points, a feat which they have achieved twice previously in the last two seasons. HMH will know how important this game is having fallen short in the league the previous two years to champions Hendon. This is an almost impossible game to predict so we are going to predict a score draw.
We caught up with Hendon Boss Gabe John prior to sunday "A huge game in store Sunday against one of our title rivals. We're delighted to have a full squad available and in fine form after last weeks 6-1 win. We must show HMH the respect they deserve and are fully committed to what will be a massive game. Player to watch Josh Bharier."
MGBSFL Prediction: HMH 2-2 Hendon

Joe Jacobson's Prediction: HMH 1-3 Hendon
Jewdinese vs Fairlop
Venue: St James High School
A tough game to predict here! both teams were on the end of defeats last week but we expect them both to bounce back into week two. Fairlop were impressive in parts against HMH scoring 3 goals with an early contender for goal of the season from James Jaconelli, but they will need to tighten up at the back if they are to secure 3 points against Jewdinese's attacking prowess with Reiss Mogilner, Zack Collins and Zach Brin. We expect Jewdinese to come out all guns blazing here in the hope of securing their first points of the season and although we think this will be a tight game, we are expecting goals and an open game, but we are going for a home win here and Jewdinese to register their first 3 points of the season
MGBSFL Prediction: Jewdinese 3-2 Fairlop
North London Galaxy vs Faithfold White
Venue: To Be Confirmed
We may have gone about this game differently, but post last week's results we are going for a comfortable home win here. North London Galaxy bounced into Premier Division action last week with a fantastic away draw against Oakwood and we are backing them to continue that form into this week. Faithfold White are coming off the back of a disappointing first week result against their Faithfold counterpart but against a strong Galaxy team who as we mentioned last week are not in the premier division just to play games we can't see them getting something from this game. Ethan Kessell was the man in form last week for Galaxy and with a strong blend of youth and experience Galaxy could be an early season contender for underdogs to secure a top 4 finish.
MGBSFL Prediction: North London Galaxy 2-0 Faithfold White
North London Raiders vs Oakwood
Venue: Ark Academy
The battle of ark academy! this looks to be an exciting match up with rumours of some of Oakwood's new signings being back in action this week. Raiders found themselves on the back of a tough defeat at Rowley lane last week and we think they may face a similar result this weekend. Oakwood have always been strong and if the rumours are true of a full squad on sunday we think they will have too much for Raiders. Raiders will certainly be looking to bounce back and they have enough fire power from the in form Liron Mannie to get past Oakwood, but we are going for an oakwood win here although it wouldn't surprise us if our prediction is wrong come midday sunday!
MGBSFL Prediction: North London Raiders 1-2 Oakwood
Maccabi London FC vs Faithfold Blue
Venue: Rowley lane

This was close to being our pick for Premier Division game of the week had it not been for Hendon vs HMH. Two teams who have started the new season with a bang following fantastic results last week. Maccabi London come into the game having conceded 3 goals last week which we are sure will be something they will look to improve on, especially given the fact Faithfold Blue scored 3 last week. Faithfold Blue started the season in fine form against their Faithfold counterpart and we are expecting them to continue this form into week two, however Rowley Lane has never been an easy place to travel too and especially with MLFC coming off the back of a fantastic win last week. Too hard to call so we are going to sit on the fence here but we expect an exciting game in this match.
MGBSFL Prediction: Maccabi London FC 1-1 Faithfold Blue
Division 1:

FC Team vs Hertswood Vale - MGBSFL Division 1 Game Of The Week
Venue: Aycliffe Park
Our Game of The Week is a clash between runners-up of the Peter Morrison Trophy Hertswood Vale versus Division Two champions FC Team. FC Team got off to a great start last Sunday with a 2-0 away victory over Temple Fortune. Ben Sollossi showed what he is capable of in his competitive debut for the club last week and is sure to be a player that Vale will be paying attention to come Sunday. FC Team tweeted that this Sunday's game could possibly be their biggest test in years, which is a real testament to the way Danny Hirschberger and Jacob Emanuel have got their side playing in the last 12 months. It's a first competitive game since Vale's emphatic run to the Peter Morrison Trophy Final ; despite being defeated in that game, the run will fill them with the confidence that they can achieve something special this season.
"Buzzing to get our 5th season as a club started, and we're looking to do it in the right way with 3 points," said Vale Co-Manager Jacob Emanuel. "We face a very good FC Team on what's likely to be an awful surface at Aycliffe Park which is going to cause problems for both teams." It is to be seen what sort of effect the Aycliffe Park pitch could have on the proceedings. This could just be mind games from the Vale manager or a genuine worry about how his side may cope on a more difficult terrain.
Team News:
Vale are said to have a few players missing but James Millet is available and he is set for his first game as captain. Scott Hircombe, Robbie Metzger and Jack Ottman are all pushing to make their debuts for the club, whilst vice-captain Jordan Grant faces a late fitness test.

MGBSFL Prediction: FC Team 1-2 Hertswood Vale
Joe Jacobson's Prediction: FC Team 2-2 Hertswood Vale
Borussia Barnet vs Brook Farm Rovers

@BorussiaBarnet @BrookFarmRovers
Venue: Bridgestone Arena

Borussia Barnet got off to a great start to life in Division One with a 2-1 victory over Mill Hill Dons. Barnet showed they are more than capable of competing at this level in a very impressive display, however they did tire as the game went on and nearly were left to pay for not finishing their chances. They will head into Sunday's game full of confidence and their manager Bradley Papier will hope they come out the blocks firing once again this weekend, "We don't know anything about brook farm but we'll approach the game expecting them to be more than capable of beating us if we aren't on it."
It's a first game back for their opponents Brook Farm Rovers, who like Barnet are also taking part in their second season in the MGBSFL. Rovers manager Dan Cohen spoke on the game "We were disappointed not to be able to play last week but of course everyone's safety takes priority. We've trained well this week and can't wait to play. We've never played Borussia Barnet but they did very well last year and started off with a win last week, so we know it will be a tough game but we are raring to go. We've added to the squad over summer and want to push on following a mid table finish last year." The signing of Adam Ellis from HMH is one that made many stand up and take notice, Brook Farm will be looking to prove they are serious contenders this Sunday.
Team News:

Oron Sheldon, Louis Hart and Mitchell Gerber are all set to miss out for Barnet, whilst Michael Kenley faces a late fitness test after picking up a shoulder injury last week. Bar a few longer term injuries for Brook Farm, they have a big and healthy squad to choose from for their opening game of the season.
London Bears vs Temple Fortune

Venue: Spikes Bridge Park
London Bears are getting their season underway this weekend, after their delayed start to proceedings last week "We were disappointed to not have a game last week but of course we had to be sensible and using our common sense, the game had to be called off," said player-manager James Harpin. Harpin is expecting a difficult challenge against Temple Fortune, a team they struggled against last season, "This week is a tough game for us. We played Temple fortune twice last year and struggled in both games. They sat very deep against us and we struggled to break them down. I'm expecting a similar game this weekend. We have to move the ball quickly and be patient and hopefully we will take the chances when we get them. We have a quality squad to pick from and if we can take the momentum we built up in pre season into this game, I am sure we will get a win." Jared Rand could prove to be the signing of the summer, he was in imperious form in pre season and the Fortune hierarchy will be aware of the threat he causes leading into Sunday's game. Fortune took four points off the Bears last season and their manager Simon Linden is up for the battle ahead "We are keen to bounce back from last week but know this is another tough game. They have strengthened but are they ready for a battle, let's see."
Team News:

Jared Rand, Joe Jayson, Jacob Lauder and Josh Burns are all in the squad and looking to make their first competitive start for the Bears. Though there are a couple of players who are set to miss out on this one for the Bears.

MGBSFL Prediction: London Bears 2-0 Temple Fortune
Paris Saint-Jewmain vs Mill Hill Dons

Venue: Brunel University Sports Park
It will be a family affair in Uxbridge this Sunday with four sets of brothers going head to head when the two teams meet. Paris Saint-Jewmain will head into this fixture in the more buoyant mood after defeating Club de Chigwell last week, "We go into this game with a lot of confidence and momentum having won our past three games," said PSJ manager Mikey Elia. "We've never faced the Dons before but we expect a tough battle if we want to make in 2/2 wins."
Dons manager Brandon Hammé was disappointed in his side's defeat last week but remains upbeat and positive heading into this Sunday, "Last week's result was disappointing but it is all part of our learning curve, we know what went wrong and we will continue to improve as the weeks go on. We were not at our best but we still nearly came away with a result, which I see as a big positive for things to come. It may be our first time facing PSJ but we know it won't be an easy game, they picked up a good result last week and some impressive results in pre season and we have history facing many of their players in the past, there is clearly quality within the squad. However, I believe this is the week it all comes together and clicks for us, training was good midweek, the boys are raring to go and I think we can go and get a result this Sunday."
Team News:

PSJ nearly have a full squad to choose from, with just a few players missing out from injuries picked up during last week's game. The Dons are missing Josh Moses, Sam Demby, Sam Stead, Scott Waissel due to injury, with the latter expected to make a return to training next week. Dillon Lewis, Josh Goldstein and Kane Gilbery are all set to make their debuts for the club.
Division 2:
Scrabble vs NWL Azzurri - MGBSFL Division 2 Game Of The Week
Venue: Aycliffe Park SC
Our pick for the Division Two game of the week!
Scrabble come into Sunday's game off the back of an impressive 3-2 win against Staw Hat Pirates. They'll be looking to keep firing on all cylinders Sunday against MGBSFL new boys NWL Azzurri. They may have a young squad, but they certainly mean business this season.
Look out for Scrabble's star man Oliver Ziff, who will be aiming to build on last Sunday's brace.
This will be NWL Azzurri's first ever MGBSFL game, and it's one they have been looking forward to for a long time.
Azzurri cleaned up in their pre-season games with impressive victories over the likes of Premier Division Champions Hendon United, and a 7-0 drubbing over Paris St Jewmain. Taking this form into the new season, promotion and winning the league will be their aim. "After a solid Pre-Season we feel we can take are unbeaten record forward into our first game of the season. We are just so excited to get going and hope we can bring the 3 points home as-well. We know Scrabble are a solid side and will be a good first test for our lads, but we are ready for anything."
Team News:
All eyes will be on Azzurri's marquee signing Aron "bagsman" Gale this Sunday. Gale scored 19 goals last season for North London Raiders, and will want to pick up from where he left off in the MGBSFL, "Expect to see him at the top of every single goal chart right from the start of the season." Full league debut's for Sam Morris, Ethan Mooney, Nathan Rosenthal, Zak Jackson & Ben Rosen.

NWL Azzurri have put together a very strong squad and we think they'll win their opener this Sunday. However, we wouldn't be suprised to see the Scrabble youngsters cause an upset!
MGBSFL Prediction: Scrabble 1-3 NWL Azzurri

Joe Jacobson's Prediction: Scrabble 4-1 NWL Azzurri
SPEC vs Redbridge JC
Venue: Oakhill Park
SPEC will hope to get their campaign off to winning ways after last seasons relegation from Division One. They kick off at their new home pitch Oakhill Park and will want to make it a fortress.
They have had a mixed bag of results in pre-season, but finishing with back to back wins against Temple Fortune & East London Bees, they go into their opener full of confidence.
We caught up with SPEC manager Ricky Lawrence before Sunday's opener, "It's been difficult with lots of ins and outs but we've been improving every week and fingers crossed, we'll be ready come the first game of the season. Division Two often has some very strong new teams and it's so hard to predict. Hopefully we can fight it out at the top end of the table but we'll have to hit the ground running to do so."
Redbridge will want to make up for last weeks missed opportunity of all three points, and get their first win of the season.
Team News:

Expect to see lots of new faces for SPEC "The squad is almost 50% new signings so I wouldn't like to single anyone out but I'm sure there are some names in there that will have an impact."
All eyes will be on Redbridge JC's Sam Cormack, who registered a hat-trick in pre-season. His goals may prove vital in this seasons campaign.
We expect lots of goals, but a very tight game. We're going for a score draw.
MGBSFL Prediction: SPEC 2-2 Redbridge JC
Straw Hat Pirates vs Stoke Salmon
Venue: TBA
After a disappointing 3-2 loss to Scrabble in their opening game, Straw Hat Pirates know nothing more than a win will do this Sunday. They will be hoping that home advantage will help them in the battle for three precious points.
Stoke Salmon on the other hand go into the game off the back of a narrow 2-1 win over West Hendon Wallabies. Salmon weren't at 100% last Sunday and will want to make amends by doing all their talking on the pitch.
"Another Sunday, another big game. Looking to build momentum after our first game. Working on movement and creativity in training as we felt we could have been better in the final third on Sunday. Don't know much about the oppo but a hard fought draw in their first games suggests it's going to be another tough game for us this weekend. Going to have to be at our best if we want the three points."
Team News:
Stoke Salmon will have some fresh legs this Sunday, including some debuts, "Jonny Halmer and James Gordon join the squad this week after absences due to quarantine for week 1 - looking forward to seeing both these boys in action as I know they are both itching to get going, especially Jonny Halmer who has been looking really good in pre season, so it's a big boost to the squad to have him involved."

This will be an end-to-end game, with plenty of goals, but we think it'll be a Stoke Salmon win this Sunday with a bolstered squad.
MGBSFL Prediction: Straw Hat Pirates 1-3 Stoke Salmon
West Hendon Wallabies vs FC East London Bees
Venue: Copthall Playing Fields
West Hendon Wallabies were unlucky to lose their opener last week, and will want to turn things around starting this Sunday against new boys FC East London Bees.
"Playing the Bees will be interesting as they are new to the league and we don't know how they set up. That said, we are confident in our line up regardless of injury, we have a strong starting XI and we look forward to cleaning up."

MGBSFL newcomers FC East London Bees have had a busy summer building a strong squad to compete at the top half of Division Two. This includes the signing of former Hendon United gaffer Jordan Sapler.

They experienced mixed fortunes in pre-season, and will be aiming to get off to a winning start this Sunday.
Team News:
West Hendon Wallabies have a few injury woes ahead of Sunday's fixture.
FC East London Bees TBC
The toughest game to predict this game, it's early days for both teams and it could go either way. However, we see this being a score draw.
MGBSFL Prediction:West Hendon Wallabies 2-2 FC East London Bees
Follow the site to get the latest news and results straight to your email