Maccabi GB Southern Football League

Maccabi GB Southern Football League
News Report
Match Day Three Review
29/09/20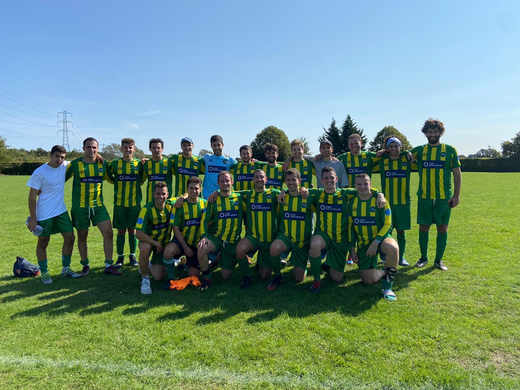 MGBSFL Results - Sunday 27th September 2020
Premier Division:
Maccabi London FC vs Fairlop - MGBSFL Premier Division Game Of The Week
Result: Maccabi London FC 2-1 Fairlop
Maccabi London FC continued their 100% record with a 2-1 win over Fairlop at Rowley Lane on Sunday. Both the leagues and Dean Furman's prediction proved right in this weeks Premier Division Game of the week with Maccabi London FC coming out on top. Fairlop came into this game off the back of a really good victory two weeks ago and made it tough for MLFC throughout the 90 mins but when MLFC went 2-0 up it looked to put the game to bed. Fairlop scored with little time left and put a barrage of pressure on the MLFC defence in the dying minutes but MLFC will be delighted to fend off Fairlop and end the weekend in 2nd place in the league with 3 wins in 3.
MLFC Manager Max Kyte speaking post game said "Fairlop are a great side and always cause us problems. We knew we had to battle for the full 90 to get a result, as many times they have fought back from behind against us and earnt points. We went 2-0 up through Ezra and Dryer and probably had the lion share of the game. But with 15 to go Fairlop pulled one back from a long free kick headed in at the back post. The last 10 we had to fight off lots of pressure but all the boys stood up to be counted, winning tackles and headers in big moments to see the game out, Fairlop will definitely do well this year and we expect them to cause some upsets"
Maccabi London FC Goal Scorers: Charlie Ezra, Charles Dryer
Fairlop Goal Scorer: TBC
MGBSFL Prediction: Maccabi London FC 3-1 Fairlop

Dean Furman's Prediction: Maccabi London FC 2-0 Fairlop
Jewdinese vs Faithfold White
Result: Jewdinese 4-0 Faithfold White
Jewdinese are finally up and running in the Premier Division. A win, four goals and a clean sheet rounds off a superb Sunday morning for the Zebras. We said before this game that it was time Jewdinese's Attack started showing their quality and Zack Collins, Scott Oldstein and Reiss Mogilner all scored in what was a convincing victory against Faithfold White. Faithfold White have now lost their first two games this season and will look to use the two week break coming up to train hard and get back to winning ways when the MGBSFL returns.
Nese Manager Darren Lawrence Said "It was a great win. We dominated throughout, scored 4 brilliant goals and could've had 3/4 more. A really solid performance from every single player"
Jewdinese Goal Scorers: Scott Oldstein X2, Zack Collins, Reiss Mogilner
MGBSFL Prediction: Jewdinese 2-1 Faithfold White
HMH vs Faithfold Blue
Result: HMH 7-0 Faithfold Blue
HMH manager Avi Goldberg said before this game "This is the sort of match where in previous seasons we have often come up short which has cost us the league" It looks as if HMH have put previous seasons struggles behind them and taken things to a new level this year. This game was always going to be a test of HMH's attitude following a 5-0 victory over Hendon two weeks ago and they definitely didn't disappoint. Seven goals and a clean sheet and in better conditions it could've possibly been worse for Faithfold Blue. Faithfold Blue started the season well with a convincing 3-0 victory over Faithfold White but with back to back defeats they will be hoping to use the break to get back to basics and go again when the MGBSFL returns in two weeks.
HMH look to have started this season very strong with 18 goals scored already and two clean sheets and their man in form Oscar Wagner sitting at the top of the MGBSFL scoring charts with 5 goals in 3 games.
HMH Goalscorers: Ariel Rahamim X3, Oscar Wagner X2, Sam Monjack, Dom Feldman
MGBSFL Prediction: HMH 2-0 Faithfold Blue
North London Raiders vs Hendon
Result: North London Raiders 1-1 Hendon
It ended all square at the Ark on Sunday! Division 1 champions put the current Premier Division champions to the sword in what was a fantastic game. North London Raiders star man Liron Mannie was on the scoresheet again. Although Raiders didn't take all three points here this sends out a big statement to the Premier Division that North London Raiders are a serious outfit this season and after their fantastic win two weeks ago we can really see Raiders mount a good challenge at the top of the Premier Division this season. Hendon came into this game off the back of a 5-0 defeat to league leaders HMH and although they didn't take all 3 points here, a point away from home to a very good Raiders side could still prove vital this season. Raiders are going about their business quietly this season but we believe this could be the start of a very good season ahead for the Division 1 Champions.
Raiders Manager David Isaacs gave his assessment post game "If you told me at the start of the season that I would have been disappointed with a 1-1 draw against Hendon I would have been shocked. It was a very tight game, but I believe we had the better chances and if we had our shooting boots on we really could have snatched the 3 points"
North London Raiders Goal Scorer: Liron Mannie
Hendon Goal Scorer: Simon Peterman
MGBSFL Prediction: North London Raiders 1-2 Hendon

Division One:

Mill Hill Dons 2-2 Hertswood Vale - MGBSFL Division One Game Of The Week
Dons Goalscorer: Zach Cohen x2
Vale Goalscorer: James Millet x2
The Mill Hill Dons- Hertswood Vale Derby was yet another classic filled with some top quality football from both sides, passion and some drama on top. The Dons took an early lead through their all time leading goalscorer Zach Cohen as he pounced on an inch perfect cross into the box from fullback Kane Gilbery to slot it past Adam Zaidman in goal. Vale equalised midway through the first half from a corner as James Millet managed to poke away a rebound from close range. Millet found the scoresheet once again shortly after this time from the penalty spot after Robbie Metzger was taken down. Vale enjoyed the majority of the possession in the first half but the pendulum swung in the second half with the Dons growing into the game and they found themselves level once again after Adam Isaacs was awarded a penalty, Zach Cohen stepped up and cooly slotted it away. Dons assistant manager-goalkeeper Sam Singer was in inspirational form keeping the scores level to the frustration of Vale. The Dons started to create some chances of their own late on and will be disappointed to have not have found a third.
"The boys left the pitch ultimately frustrated at two points dropped in a match where we could've been out of sight at half time," said Vale co-manager Jacob Emanuel. "Only going in 2-1 up at half time left us vulnerable, and again missing some crucial chances at the start of the 2nd half, Dons equalised from the spot with an interesting penalty decision from the man in black. Dons grew into the game in the 2nd half, and ultimately a draw was a fair result in the end, but the boys know we should've walked away with a comfortable victory. Despite missing a few key faces, I'm continually impressed by the quality of the squad, and our 13 out today had more than enough ability to do the job. We look forward to facing them again in the return leg." Emanuel also made mention of Dons keeper and man of the match Sam Singer "Special mention to Sam Singer who was incredible throughout - it's great to see him back in goal after a horrific injury ruled him out last season."
Dons manager Brandon Hammé was impressed with his side's performance "I couldn't really have asked much more from the boys, we started very well but tailed off in the first half and found ourselves behind. I felt like the boys took on board what was said at half time and implemented it really effectively and on another day we could have come away with three points. In the past we have lacked a physical edge and we are really starting to showcase our physical side this season and it's great to see the boys putting their bodies on the line for the side. It makes a huge difference having Sam Singer back into the sticks, he is instilling a confidence in the back four and this showcased especially in the first half, where I felt we played the ball out of the back superbly. I think we have shown so far that we are more than capable of mounting a serious promotion challenge this season but there is still work to be done."
MOTM: Sam Singer
Borussia Barnet 2-1 Club de Chigwell
Barnet Goalscorers: Adam Bowman, James Doffman
Chigwell Goalscorer: Own Goal
Borussia Barnet continued their 100% start to the season with another win but it was yet another tight affair, with Barnet manager Bradley Papier describing it as "a really tough game". Adam Bowman could make a strong claim towards being one of the best set piece takers in the MGBSFL, after opening the score once again direct from a free kick. Chigwell found themselves back level shortly after a Barnet player inadvertently put the ball into his own net. "We then pushed on from the wake up call and managed to get the winner after some good build up play with James Doffman finishing it off, '' said Papier, "Great win with half the squad missing". Barnet going to October top of the table and look like they may be the team to beat. Club de Chigwell will be hoping to get their first win of the season after the break, they have a cup and league double header against Brook Farm Rovers.
MOTM: Adam Bowman
FC Team 3-0 Paris Saint-Jewmain
Team Goalscorers: Richard Salmon x 2, Jon Haik
FC Team won in comfortable fashion in a physical game against Paris Saint-Jewmain with Richard Salmon finding the scoresheet on two occasions. FC Team's Mitch Young was very praiseworthy of the referee's performance and was delighted with how his side played "A very comfortable game which we bossed from start to finish. We did not appreciate our player getting punched and the behaviour of the other team however the referee did an excellent job. We are happy to be unbeaten and the break is needed as we have an ever growing injury list as every game in this division is highly competitive." Paris Saint-Jewmain started with a victory on the opening day but since they fell to two straight defeats, they will be looking to bounce back after the break, but it won't be easy as next up top of the table Borussia Barnet.
MOTM: Richard Salmon
Faithfold Green 3-3 London Bears
Faithfold Goalscorers: Avi Garson, Gabriel Soul, James Jacob
Bears Goalscorers: Jared Rand x2, Jack Miller
Faithfold manager Ben Kfir may have not been overly optimistic pre match but his side came close to getting off to a winning start against the Bears, after finding themselves 3-1 ahead at half time, through goals by Avi Garson, Gabriel Soul and James Jacob. The Bears mounted a comeback second half, scoring from the penalty spot in the dying moments of the game to level it up. Ben Kfir gave his thoughts after the game "Felt it was a good match, we should have capitalised on some of our chances and felt that critical decisions didn't go our way. Looking forward to the return fixture." Both Faithfold and the Bears have games in hand over other teams in the league and it is too early to gauge how strong of contenders they will be this season but both managers are bound to be impressed with what they have seen so far. Faithfold's next league fixture will see them travel to face Mill Hill Dons, whilst the Bears host FC Team in what is bound to be an exciting clash.
MOTM: Jared Rand
Division Two:
FC East London Bees vs Hampstead Ducks - MGBSFL Division Two Game Of The Week
Result: FC East London Bees 0-2 Hampstead Ducks
Hampstead Ducks picked up their first win of the season with a fine perfomance against MGBSFL new boys FC East London Bees. As predicted by Dean Furman, they ran out with a 2-0 win to get their season well up and running.
Duck's manager Jake Summerfield had lots of praise for his team after the win, "The Ducks played a really good game on Sunday, controlled it from the off and created plenty chances. In truth, our finishing was a little off and we could and should have had a lot more, but the most important thing is that we scored. Our defence, marshalled by Avi Goldberg, Jack Wagner and Alex Mindell looked totally impenetrable so it was a matter of if we scored, we won"

The Bee's will want to quickly bounce back from this loss, after impressing in their opener, this will be a wake up call for them. Hampstead Ducks manager had no excuses, and gave the match referee some great praise, "We were disappointed with the performance we put on against a solid Hampstead Ducks team who deservedly won. Josh Cohen was superb in goal making a few great one on one saves. The wind caused havoc all game meaning neither side could play the football they wanted. We look forward to the return fixture where we hope to have a full strength team. Also a note on how well refereed the game was by Josh Smith. A superb ref and one we hope to have more of this season".
Hampstead Ducks Goalscorers: Jonathan Gaon, Joe Metliss
MGBSFL Prediction: FC East London Bees 4-2 Hampstead Ducks

Dean Furman's Prediction: FC East London Bees 0-2 Hampstead Ducks
NWL Azzurri vs SPEC
Result: NWL Azzurri 5-0 SPEC
NWL Azzurri made it two wins from two in a five star perfomance against SPEC. A hat-trick from star man Aron Gale put SPEC to the sword in the second half. After a strong first half, SPEC will be ruing missed opportunities to stay in the game.
Azzurri have now scored 15 goals this season in just two games, and are showing that they mean business in the promotion push to Division One.
Spencer Saffer, NWL Azzurri Manager said, "A thoroughly enjoyable game with a very competitive first half. Second half we changed a few things and made our superiority count as SPEC tired. So far we are loving the league and can't wait for the next game. Special mention to Aron Gale on banging in a hatrick on his Azzurri debut with a slight injury!"

NWL Azzurri Goalscorers: Aron Gale x 3, Ben Rosen, Oscar Green
MGBSFL Prediction: NWL Azzurri 4-3 SPEC
Scrabble vs Stoke Salmon
Result: Scrabble 1-6 Stoke Salmon
Stoke Salmon kept up their 100% record, with a third straight win against a youthful Scrabble side. They are the early season pace setters top scoring with 16 goals, and conceding just 2.
Scrabble on the other hand will be keen to bounce back, after more defensive woes at the back.
Stoke Salmon's manager was ecstatic with the perfomance, "Dominant performance and the score line could've been even heftier. We matched Scrabble physically and then dominated with the ball throughout.We're only gonna get better but it's amazing in this early period to have maximum points from our 3 games, whilst scoring plenty of goals and not conceding too many.Star performers Scott Gurvitz with his first goal for the club, Alex Bleetman with 2 goals and Jamie Smaje running the show as usual."

Scrabble Goalscorer: Alex Bourne

Stoke Salmon Goalscorers: TBC
MGBSFL Prediction: Scrabble 3-3 Stoke Salmon
West Hendon Wallabies vs Straw Hat Pirates
Result: West Hendon Wallabies 6-6 Straw Hat Pirates
An early contender for game of the season took place between the Wallabies and the Pirates, with no fewer than TWELVE goals.
It was the first point of the season for both teams, but neither will be happy with just a point after scoring so many.
West Hendon Wallabies Goalscorers: TBC
Straw Hat Pirates Goalscorers: Tomer Doron, Adam Hilsenrath x 2, Ben Mandell x 2, Anthony Chern
MGBSFL Prediction: West Hendon Wallabies 4-2 Straw Hat Pirates

Follow the site to get the latest news and results straight to your email