Maccabi GB Southern Football League

Maccabi GB Southern Football League
News Report
Match Day One Review
07/09/20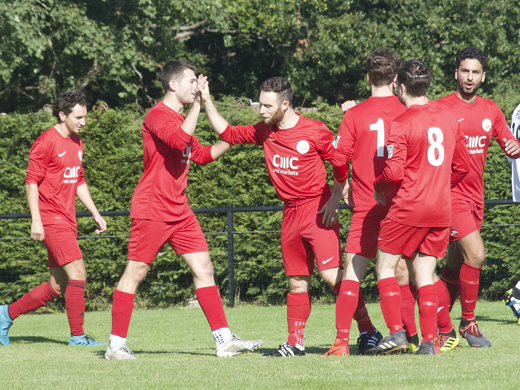 MGBSFL Results - Sunday 6th September 2020
Premier Division:
Hendon vs Jewdinese - MGBSFL Premier Division Game of the Week
Result: Hendon 6-1 Jewdinese
An early statement from last season's champions back at home. a fine display scoring 6 goals against newly promoted Jewdinese.
Hendon goalscorers: Josh Bharier x2, Chaim Korman x2, Kiki Levin, Moses Seitler
Jewdinese goalscorer: To be confirmed
HMH vs Fairlop

Result: HMH 6-3 Fairlop
HMH got back to winning ways on Sunday in a 9 goal thriller against Fairlop. Fairlop took an early lead with HMH fighting back to go into the break 2-1 up. A second half display which brought 6 goals and an early contender for goal of the season from Jamea Jaconelli wasn't to be enough for Fairlop with HMH comfortably bringing home the 3 points in the end.
HMH goalscorers: Ariel Rahamim, Adam Abadi, Oscar Wagner, Eli Wegrzyn, George Goldberg, Leo Ackerman
Fairlop goalscorers: Max Pincus, James Jaconelli x2
Maccabi London FC vs North London Raiders

Result: Maccabi London FC 4-3 North London Raiders
As predicted this was a game full of goals and excitement. Last season's Division 1 champions came into this game with a strong squad and their star player Liron Mannie scoring 2, but it wasn't to be enough with Maccabi London FC taking the 3 points in their first game of the season.
Maccabi London FC Goalscorers: Max Kyte x2, Mikey Perkins, Adam Arnold
North London Raiders Goalscorers: Liron Mannie x2, Nick Lewis
Oakwood vs North London Galaxy
Result: Oakwood 1-1 North London Galaxy
We predicted an early season shock here, and although North London Galaxy didn't take all 3 points, they showed they are not here to play games and will be a serious challenge for any premier division side this season. their young playmaker Ethan Kessell with a goal that secured a very good early season point away to oakwood.
Oakwood Goalscorer: To be confirmed
North London Galaxy goalscorer: Ethan Kessell
Faithfold White vs Faithfold Blue

Result: Faithfold White 0-3 Faithfold Blue
Faithfold Blue goalscorers: Daniel Orgel, Rob Hershkorn, Zack Shooter
Division One:
Borussia Barnet 2-1 Mill Hill Dons - MGBSFL Division One Game of the Week
Barnet Goalscorers: Joe Woolf, Michael Kenley
Dons Goalscorer: Zach Cohen
Borussia Barnet started life in Division One with a 2-1 victory over Mill Hill Dons in Neasden. Barnet manager Bradley Papier was delighted with his team's performance "Thought we started very well and got the early goal, a Kenley ambitious overhead kick turned into the perfect cross when Woolf popped up at the back stick. The first half an hour was one way traffic and we had several chances to double our lead, none better than a penalty which we failed to convert. After 30, dons grew into the game and became a lot tougher to break down, eventually capitalising on a mistake from our full back leading to an easy equaliser. Second half was a lot more even with both sides having chances, Singer who actually had an excellent game unfortunately had a lapse of concentration and the ball squirmed under him from Kenley's shot."

"We started very slow but grew into the game as time went," said Dons manager Brandon Hammé. "Lapses of concentration cost us defensively and going forward we weren't passing and moving the ball like we know we are capable of doing. I think both Sam Singer and Isaac Virchis were superb for us, Sam made some crucial saves, whilst Isaac read the game superbly throughout and despite playing at centre back created several key chances for us. I thought Barnet played some great stuff, Papier has got them playing some nice football and Kenley is bound to be a threat all season upfront for them. There are definite positives we can take, we enjoyed some nice spells in the game against a team that will be right up there and challenging, we are not the finished project and this squad has a high ceiling for what we can achieve. I'm very confident in our boys to lift their heads and bounce back in style next week."
MOTM: Michael Kenley
Temple Fortune 0-2 FC Team
FC Team Goalscorers: Jon Haik and Ben Sollosi
Goals from Jon Haik and Ben Sollosi clinced FC Team all three points in their return to Division One. Fortune manager Simon Linden expressed his frustration after the game, "Frustrating morning, we didn't perform to the standards we know we are capable of. We need to quickly move on, learn from the defeat and bounce back next week."
MOTM: Ethan Ben Zion
Paris Saint Jewmain 2-1 Club de Chigwell
PSJ goalscorers: Josh Cohen, Mikey Elia
Chigwell goalscorer: Jake Sugar
Paris Saint Jewmain have got off to a winning start in Division One after a comeback victory over Club De Chigwell. PSJ goalkeeper Ollie Reback put in an inspired performance between the sticks, saving a penalty that stopped Chigwell going into the half time break with a 2-0 lead. Josh Cohen brought it level after finishing cooly from a beautiful Daniel Graff cross. PSJ secured all three points after player-manager Mikey Elia found the net late into the second half. "Unbelievable effort from all the boys who put a big shift in today. Came back from behind at half time to win the game was something we failed to do last season so huge improvements," said the PSJ player-manager. Club De Chigwell's Josh Dobias felt his side deserved more from the game "a tough result to take as I felt we definitely deserved to get a result from the game. On another day we convert the penalty and some of our chances. We are a new team and know that we need to be much more clinical for the rest of the season."
MOTM: Ollie Reback
Division Two:
Stoke salmon vs West Hendon Wallabies - MGBSFL Division Two Game of the Week
Result: Stoke Salmon 2-1 West Hendon Wallabies
Stoke Salmon got off to a winning start in their first ever MGBSFL game, taking all three points against a new-look West Hendon Wallabies in this closely fought contest.
Nick Barnett was the star man, getting on the score sheet for Salmon's first goal of the campaign.
"Not the best performance from us but getting the 3 points was the main thing. Considering it was a lot of the boys first competitive match in over 5/6 years it was a good starting point and a good indication to the management on what needs to be worked on and what players need some more time to adapt to the intensity. Some stand out performances from Nick Barnett & Jamie Weiner were the real positives to take from the game. As a whole, a lot of room for improvement but we got the win so it's a good start."

West Hendon Wallabies will be proud of their second half performance, getting back into the game and just falling short of getting a draw.There were some standout performances from Alex Smith (CB), Julian Sims (CB) & Goalscorer Cameron Hough (LB).
"Today, our players came very close to what could have been a win. first half we were outplayed and second half we controlled the game. as we progress through the season we expect to tweak the various short-comings of our game, however for now, i am happy with the performance from everyone today, especially our defensive line who played an extremely disciplined 90 minutes."

Stoke Salmon Goalscorers: Nick Barnett, Nathan Schindler
West Hendon Wallabies goalscorer: Cameron Hough
Hampstead Ducks vs Redbridge Jewish Care
Result: Hampstead Ducks 1-1 Redbridge Jewish Care
As predicted this was a tight affair. A resurgent Hampstead Ducks put last season's woes behind them to take a point from Redbridge JC. Joe Metliss headed home for the Ducks in what could be a vital point come the business end of the season.
Redbridge Jewish Care will be disappointed not to come away with all three points, and will rue some of their missed chances in the game. "We were unlucky not to come away with a win, but we go again next week".
Hampstead Ducks Goalscorer: Joe Metliss
Redbridge Jewish Care Goalscorer: Ross Weinrabe
Scrabble vs Straw Hat Pirates
Result: Scrabble 3-2 Straw Hat Pirates
We thought goals would be hard to come by in this game, but how wrong we were! It turned out to be a goal fest between a youthful scrabble side and a returning straw hat pirates.
Oliver Ziff grabbed a brace as scrabble came out on top, to take all three points and become the early season pace setters, at the top of the table.
Scrabble goalscorers: Oliver Ziff x 2, Josh Myers
Straw hat pirates goalscorers: TBC
Follow the site to get the latest news and results straight to your email