Maccabi GB Southern Football League

Maccabi GB Southern Football League
News Report
Match Day One Preview
04/09/20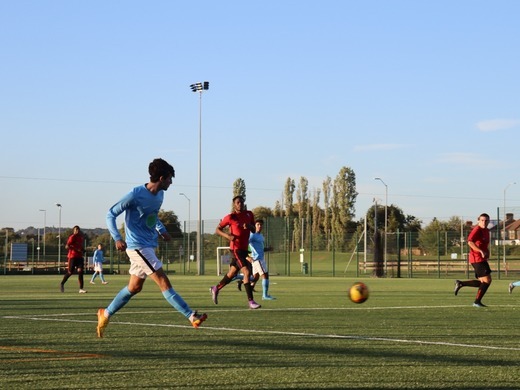 Match Day One Preview is now Live! - All matches to be played on 06/09/2020
10:00am Kick Off unless stated otherwise
Follow us on social media for more updates - Twitter: @_ MGBSFL Instagram: @MGBSFL
Premier Division:
Hendon United vs Jewdinese - MGBSFL Premier Division Game Of The Week
Venue: Hadley F.C
Our pick for Premier Division game of the week! This looks set to be a fantastic game with Jewdinese's first taste of Premier Division action against last season's champions. Hendon are resilient and when they get going play excellent football, but Jewdinese will be no pushover with the likes of Reiss Mogilner and Zack Collins in their team. Although we expect Jewdinese to put up a good fight in this game, it would be a huge shock for Hendon to come out and lose here so we are playing it safe and predicting a home win.
We caught up with Jewdinese Manager Darren Lawrence prior to Sunday who said "We're really excited to get out there on Sunday after 6 long months since our last competitive game. We face a really tough test for our first ever top division game, but to be the best, you've got to beat the best"

MGBSFL Prediction: Hendon 2-0 Jewdinese
Danny Caro's Prediction: Hendon 3-1 Jewdinese
HMH vs Fairlop
Venue: The Hive
This looks set to be an interesting match up. Last season there were 10 goals in 2 games between HMH and Fairlop, with HMH coming out on top in one game and a 2-2 draw in the other game. Although HMH have not made any signings, they have welcomed back Adam Abadi to their strikeforce and we expect him to hit the ground running having scored 4 goals in 5 games in pre-season.
Fairlop have brought in 4 new players to their squad and with their Captain Brad Gayer pulling the strings in midfield they continue to be a tough test for any premier division opposition. HMH will have to be at their best to get a result in this game but we expect them to come out on top.
We caught up with HMH Manager Avi Goldberg to get his thoughts "Season opener is always game to look forward to. We have played Hendon in opener in last 2 seasons so makes a change to play Fairlop. We are wary of Fairlop capabilities and we don't know anything about their summer transfer signings. However our lads are ready to make amends after a disappointing PM cup finals day and I am expecting a response from the players. A few players are missing due to quarantine but I expect the lads picked to turn up and do the job"
MGBSFL Prediction: HMH 2-0 Fairlop
Maccabi London FC vs North London Raiders
Venue: Rowley Lane
This game came close to being our MGBSFL game of the week with last seasons division 1 champions heading to Rowley Lane to take on Maccabi London FC. Maccabi London enjoyed a successful season last year in the Premier Division finishing 4th, the aim for this season will be to keep consistency throughout, but with a young team also packed with experience, we expect them to have a good run this year in the premier division. North London Raiders are coming off the back of a fantastic season comfortably winning Division 1. We couldn't help but notice the 5-0 victory over Maccabi London FC in pre season too, but with competitive football returning to Rowley Lane we are certain this will be a much closer affair.
MGBSFL Prediction: Maccabi London FC 2-2 North London Raiders
Oakwood vs North London Galaxy

Venue: Ark Academy
This game has gone quietly under the radar but expect this to be a fantastic match up between two excellent sides. Oakwood endured a tough season last year but have been showed real intent in the transfer window with the signings of Louie Basso and Jake Kelly. North London Galaxy were at the top of division 1 most of last season and we expect them to be no pushover this season, Rumours that their playmaker Josh Shack is back and Joey Gold their young striker has been scoring for fun during pre-season. Galaxy will come out all guns blazing for this game and we are predicting an early season shock for Oakwood.
MGBSFL Prediction: Oakwood 1-2 North London Galaxy
Faithfold White vs Faithfold Blue

Venue: Capital City Academy
The Battle of the Faithfolds! This looks to be an interesting game with a new look Faithfold Blue side entering the Premier Division with a lot of quality in their side. Faithfold White had an outstanding season last year finishing second and will hope to continue their great form after a 6 month break without any competitive football. We expect this to be a close game, but if Faithfold White are to continue their form from last season we expect them to beat their counterparts and secure the 3 points.
MGBSFL Prediction: Faithfold White 2-1 Faithfold Blue
Division One:
Borussia Barnet vs. Mill Hill Dons - MGBSFL Division 1 Game Of The Week
Venue: Bridgestone Arena
Borussia Barnet were unfortunate to miss out on the Division Two title, they were right in the midst of a title challenge when the season met its abrupt end, but still claimed a runners up spot for the season. The club are now set for their second ever season and their debut season in Division One. "We want to take Division 1 each game as it comes, as shown by the (Peter) Morrison we feel we're as good as anyone so a league title is always the aim for us," said Borussia manager Bradley Papier.
There is a new look Dons management team heading into the new season, long term manager Brandon Hammé is now joined by Isaac Virchis and Sam Singer who take on roles as assistant managers after the departure of Jamie Nagioff. Hammé, Virchis and Singer will look to improve on the Dons' 6th place finish last season and the manager has spoken positively about his side's preparations heading into the new season, "Pre season has been really positive, I've been very impressed with the progress we have made and how quickly our new signings have settled into the side. I'm expecting the division to be very competitive with teams taking points off each other throughout the campaign." Brandon Hammé then turned his attention to Sunday's clash "Sunday may be the first time we face Borussia but they have three former Dons players in their side and are littered with other players we have faced in the past, so I feel suitably prepared. We know we are going to be in for a challenging game but I have seen enough positives during pre season to suggest we are capable of picking up a result this Sunday"
Team News: The Dons will be without Josh Moses, Scott Waissel, Sam Demby, Josh Cinna and Sam Stead who all miss out due to injuries. Sam Singer will make his first competitive appearance for 511 days after returning from a broken humerus suffered in a Barry Goldstein Trophy Semi Final against North London Galaxy. Barnet picked up some injuries during the Peter Morrison Trophy Finals day, several players are set to face late fitness tests ahead of Sunday's game.
MGBSFL Prediction: Borussia Barnet 2-2 Mill Hill Dons
A first ever meeting between the two sides so a hard one to gauge. Will sit on the fence and predict a score draw.
Danny Caro's Prediction: Borussia Barnet 3-1 Mill Hill Dons
Temple Fortune vs. FC Team
Venue: Silver Jubilee Park
Two teams drenched in MGBSFL history make their return to Division One this Sunday. FC Team were crowned champions of Division Two last season, whilst Temple Fortune finished fourth. Fortune have focused their attention on fitness pre season with the hiring of a semi-pro fitness coach in the off season. "It's good to be back but we are expecting division one to be tough - there's lots of young sides that are going into their second season", said Fortune manager Simon Linden. "It can take a year to establish a new team in this league so I'm expecting some tough games." A season of consolation would be seen as a success for Fortune as they look to adapt to life in Division One. Their opponents FC Team won three out of their four fixtures in pre season and Jonny Pearl is excited for the season ahead "We did so well last season so it's brilliant to step up and test ourselves again. We are probably the oldest team in the league so will need to really work on our fitness and focus so we can compete and show our quality." Pearl also spoke about the competition within the division, "It looks like a really competitive league. There are lots of young teams who are recruiting well and stepping it up. Hertswood Vale got to the Morrison final which suggests they are going to be a tough outfit for everyone to face. We'll concentrate on our game though and use our experience to hopefully overcome what will be some tough opponents." Linden on Sunday's Game, "It's a massive opener, no love lost with FC Team and expecting a good old healthy battle. Fantastic way to start a season and looking forward to it."
Team News: Ed Bloom is back at FC Team and he is set to make his debut against his former team this Sunday. Danny Moss is also expected to be back for Team after a year's absence.
MGBSFL Prediction:Temple Fortune 1-3 FC Team
FC Team will go into Sunday's clash as the favourites after finishing above their opponents last season, however Fortune showed they are no pushovers on multiple occasions last season. Could be a tight cagey affair but predicting FC Team to get all three points in this one.
Paris Saint Jewmain vs Club de Chigwell
Venue: Brunel University
Another game featuring two teams making the move up to Division One and this time it's a battle between the teams that finished 6th and 7th in their debut seasons in the league last campaign. 6th place finishers Club de Chigwell come into this season with a new look side with no less than 15 new signings so far. They will be hoping that they can quickly form a cohesion and chemistry within the squad and Josh Dobias is confident in the quality in their side, "We've got a strong team this year with a mixture of MGBSFL experience and non so should be able to settle in fine and hopefully have a good season." Dobias also spoke about who he sees as the club's main competitors and competition this season, "We played Hertswood Vale last year in the cup and know they are a very good side but so are all teams in the league so should make an interesting season". PSJ didn't get off to the best of starts pre season with three losses in their first three games but ended in style with back to back wins, with one coming against a top division Jewdinese. "Every game will be a tough battle but we're all so up for it and ready to compete in this division and prove ourselves," said PSJ manager Mikey Elia. "FC Team we see as a big threat to us but we want to better our performances against them in comparison to last year."
Team News: A couple of key players are said to be missing for PSJ this Sunday but Mikey Elia remains upbeat about his side's chances speaking highly of the depth within the side.
MGBSFL Prediction: PSJ 2-2 Club De Chigwell
Both teams do have a new feel to them this season, so a hard one to predict. There was very little to separate the two teams last season, they have had similar success pre season so I'm going to go for another score draw.
Division 2:
Stoke Salmon vs West Hendon Wallabies - MGBSFL Division 2 Game Of The Week
Venue: St James High School
Our pick for the Division Two game of the week!
Newcomers Stoke Salmon go into their first season off the back of a undefeated pre-season.
"We have had some really good performances both as a team and individually but the team is still very raw, we are hoping it all comes together when the season starts."
Promotion to Division One is the aim, "there will be a lot of competition so we will see how it goes. We're very excited, we know it's going to be tough".
Salmon have put together a solid squad to challenge with former Galaxy star man Nick Barnett being arguably their signing of the window.
Other notable signings are Scott Gurvitz, Josh Tray & Harry Goldsmith. However, the one to look out for is former SPEC player Jamie Smaje.
Stoke Salmon are raring to go this Sunday, in what has been a project several years in the making, "There's been a lot of build up and a lot of excitement leading up to this day so everyone involved is ready to get going and finally start our journey. We expect a cagey game but we are hoping that as a team we can get through it, show our quality and get those all important 3 points to start the season the right way."
Fellow newcomers West Hendon Wallabies go into their first game with confidence. "So far the team has been really committed to pre-season, we've only played one game at the moment and we drew that one all scoring with five minutes to go to equalise the game.
This probably matches the limbs of Aguero winning the Premier League but it's hard to choose between the two".
It will be the first match between West Hendon Wallabies & Stoke Salmon in what promises to be a tasty encounter. "Generally when we are preparing for matches we don't like to focus on the opponent we focus on our own philosophy and way of playing. It's also our first game together so we're not too worried about the result of the match as long as everyone puts in 100% we can all enjoy the beautiful game."
Commitment is what is expected of the Wallabies squad this season, "Our gaffer has dropped some big names he weren't fully committed to the club and that's how we mean to move forward with every single member of our squad willing to die for the badge."
Team News:
Injury will force Salmon's hand this weekend with team selection, due to them suffering some injury woes pre-season. "We believe we have a very good squad but have suffered with a lot of injuries in pre season, most noticeably to our captain Louie Greenham, seeing him ruled out for the start of the season. However, we have decent depth so really looking forward to see what the boys come up with this season."
The Wallabies are missing a few key players who have decided to go to Portugal on the lads trip. The club is therefore fined them a packet of biscuits and ten laps at training.
They are in talks to sign a couple key members but are currently happy with the squad they have available.
MGBSFL Prediction: Stoke Salmon 3-2 West Hendon Wallabies
Danny Caro's Prediction:
Hampstead Ducks vs Redbridge Jewish Care
Venue: Edgwarebury Park
Hampstead Ducks head into their second season in Division Two full of confidence after a good pre-season.

"We started with a loss but since then we've tightened up, worked on our shape and got 2 draws and a win against excellent opposition".
The Ducks will be looking to build on mixed fortunes last season, " I think we'll get on a lot better this year, not only do our existing players understand the game a bit more, and have had a year and a good pre-season together, but we've brought in MGBSFL pedigree and some real quality players. There's a new feel about the team this year and we are all very excited to get going".
Some great business in the transfer market has strengthened the side, notably Avi Kestenbaum, Ben Summerfield and Joel Barnett in the middle of the park; Alex Mindell and Jake Krais at the back and Sam Shooter and Asher Rabstein in attack.
Redbridge Jewish Care have only one thing on their mind going into the new season - promotion.
After a disappointing season last time around, finishing bottom of Division One, they are looking to get back to winning ways and take Division Two by storm.
They have also been busy in the transfer market with some signings including Jonah Mahar, Alfie Grant, Jack Warren & Josh Brody.
Team News:
Hampstead Ducks have a very strong side for their inaugural game at their new pitch. "We are looking forward to a close game with Redbridge and had a good coaching session in the midweek to prepare us individually and as a system."
Joe Metliss has recovered from a calf injury but the Ducks will be missing some big names in Jono Gaon, the Goldbergs and a few more to quarantine.
New star signing Jonah Mahar makes his Redbridge JC league debut, also look out for Ben Oldstein, and Josh Joseph.
MGBSFL Prediction: Hampstead Ducks 2-2 Redbridge Jewish Care
Scrabble vs Straw Hat Pirates
Venue: Aycliffe Park
Scrabble will be looking to kick on from a season of mixed fortunes, targeting the top of the table this time around. Having found goals hard to come by in their league campaign, they are hoping new signings can turn things around for the new season. "A top half finish & to be able to walk the rest of the week after playing 90 mins against kids half our age".
Straw Hat Pirates return to the MGBSFL looking to challenge for the Division Two title. With a new look team, the only way is up for one of the leagues newcomers.
MGBSFL Prediction: Scrabble 1-1 Straw Hat Pirates

Follow the site to get the latest news and results straight to your email